Edit: Tomorrow's Weather is temporarily down as I haven't had time to maintain it. It should be up again soon and working.
So this weekend I decided to play around with Yo and put together a channel to Yo back tomorrow's weather.
Presenting…
(I was never good with names)
To use it, send a location Yo to TOMORROWSWEATHER (double tap to send location) and it'll give you tomorrow's weather forecast. And that's all there is to it!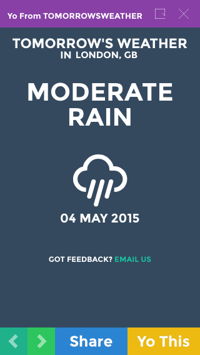 Enjoy, and feel free to send me feedback.
I'm happy to announce that I have a new short in the works – my final graduate film.